The moderate treks in the Indian Himalayas provide an unrivalled journey, with Buddhist routes in Ladakh and Sikkim, difficult but rewarding lake treks in J&K, magnificent vistas on Himachal treks, and a divine presence on Uttarakhand treks. So, prepare yourself and join Tour My India to make your mountain trip one to remember for a lifetime.
1) Hampta Pass, Himachal Pradesh.
The popular Hampta Pass Trek is a 35-kilometer trek that begins in Hampta, The trip lasts about 4 to 5 days, and the highest point reached is 4400 metres.
You travel through snow-covered valleys, Himalayan avifauna, and the arid plains of Lahaul-Spiti to finish. A night camp stay in ChandraTal is included in the hike.
2) Beas Kund Trek, Himachal Pradesh.
Himachal Pradesh, one of India's most difficult trekking destinations, provides a lovely short walk known as the Beas Kund Trek. In Manali, it is a popular long weekend trek.
Enjoy beautiful views of the Pir Pinjal mountains, as well as Dhundi and Bakarthach meadows, as you walk along the banks of the River Beas. Climb higher to reach the River's source, a glacier lake.
It's also known as Beas Kund, and tradition has it that it was here that Sage Vyas, the Mahabharata's author, bathed. This hike does not require any prior trekking expertise.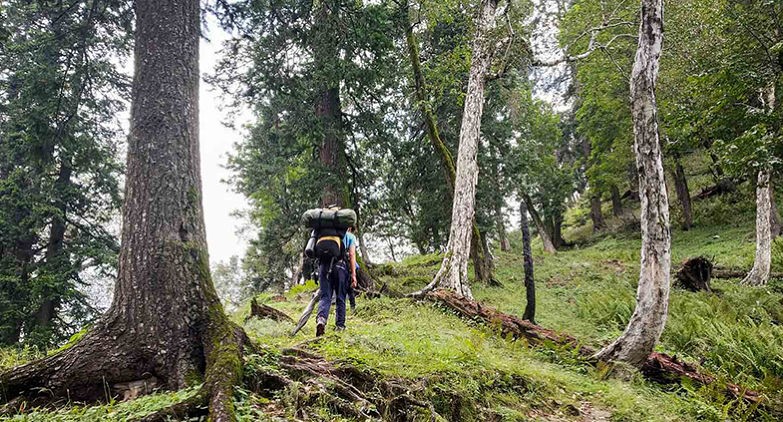 3) Chandrakhani Pass Trek, Himachal Pradesh.
Chandrakani trip is a 22-kilometer walk that takes around 10 days to complete and reaches a maximum altitude of 3650 metres.
The Pass is located at a higher height, and the views from here are breathtaking. The tour begins in the Kullu Valley's beautiful Naggar Village.
Once you've arrived at the Pass, take in the views of the Pir Panjal, Deo Tibba, and Parbati peaks. Enjoy the solitude provided to you as you walk along winding roads studded with oak and fir trees, away from human eyes. 
4) Markha Valley, Ladakh. 
Markha Valley is one of Ladakh's biggest valleys, and the Markha Valley trip is one of the region's most popular hiking paths. This difficult walk begins in Leh and will take you via the Chilling, Skiu, Sara, Hankar, and Nimaling.
During the ten days of hiking, you will pass through small villages and be amazed to see intact monasteries, crumbling forts, and temples.
With a maximum height of 5,200 metres above mean sea level, one must travel 65 kilometres and pass across two cardinal passes, Ganda La and Kongmaru La. You'll be able to see the endless Karakoram and Ladakh mountains.
The breathtaking views of K2 Mountain, Stok Kangri, and Kang Yatse peaks provide inspiration for this journey. On a clear day, one can see the Tibet area in the distance. With this package, you may go on a Markha Valley Trek.
A trip to this region will be with you for the rest of your life.

Don't Miss : Kedarkantha Trek – One of the Most Famous Trekking Destinations in the Country
5) Rupin Pass Trek, Uttarakhand 
The difficult Rupin Pass Trek, which takes approximately 7 days and reaches a maximum height of around 15250 feet, is one of India's greatest destinations for trekking. This 52-kilometer hike begins in Dhaula, Uttarakhand, and concludes in Sangla, Himachal Pradesh.
This journey, which is popular among experienced hikers, is full of obstacles and magnificent views. It is only for those above the age of 14, and it entails trekking over a variety of terrains, including rocky, meadows, and snow, as well as experiencing waterfalls and a hanging hamlet. Take in the breathtaking views of Kinner Kailash Peak. 
6) Dzongri Trek, Sikkim
The best hiking in India can be found in Sikkim, where you may go on a 5-day Dzongri trek that ranges in difficulty from simple to moderate. Yuksom is the starting and ending point of this journey, which spans a distance of 21 kilometres and reaches a maximum altitude of 15,000 feet.
This trip is a must-do if you only have a limited amount of time and want to see the greatest Himalayan vistas, including Dzongri La peak and Mt. Kanchendzonga.
This trek takes you through Saachen, Bakkhim, Tshokha, Kanchenjunga National Park, a variety of hanging bridges, gushing waterfalls, and white and red rhododendron blossoms. A day of acclimatisation is required for this high-altitude climb. 
7) Roopkund Trek, Uttarakhand
The Roopkund journey begins at Lohajung, at an elevation of 3200 metres, and leads to Roopkund, a lake at a height of 5029 metres.
The human skeleton remains discovered at the lake's bottom have made it famous. There are several tales about whose bones these are.
The distance to be covered is 53 kilometres, and it will take 7 to 9 days to complete. One may take a stroll amid lush jungles while listening to the roar of rivers. A variety of bird species, and lush flat plains may all be found here.