Vasudev Sharan Agrawal Biography :
we will understand the life introduction of Vasudevsharan Agarwal in detail. In the board examination, thequestion of writing biographies of various writers on the subject of general is included, out of which you have to write about any one writer. And one of those writers is also Vasudevsharan Agarwal, whose life introduction is being given here very briefly. Which you can read very easily, remember and write in your exam.
If you are a student of class 10 or 12, then this life introduction is very important for you because life introduction of Vasudev Sharan Agarwal is most likely to come in the general topic of class 12 board exam. In such a situation, if you read and understand this life introduction very well, then it will help you a lot in the exam and you will also be able to get good marks in the subject.
Here, in this biography, we will understand all the important questions related to the life of Vasudevsharan Agarwal, which can be asked in the board exams. Like, when and where Vasudev Sharan Agarwal was born, what is the name of Vasudev Sharan Agarwal's parents, what are the works of Vasudev Sharan Agarwal, when did Vasudev Sharan Agarwal die, introduction to the literature of Vasudev Sharan Agarwal And place in literature etc. You will find answers to all these important questions in detail here. So, if you want to understand Vasudev Sharan Agrawal Jeevan Parichay very well, then definitely read this article till the end.
Pay attention — All the examinees should keep in mind that in the examination, under the life introduction, the life introduction of the writer or poet, literary services or contribution, creations or creations and place in literature should be briefly and succinctly described. Keeping all these points in mind, if you write the introduction of life in the examination, then you will definitely get full marks in the examination.
Name

Vasudev Sharan Agarwal

date of birth

August 7, 1904

birth place

Kheda Village, Meerut District (Uttar Pradesh)

date of death

27 July 1967

place of death

Varanasi

Age (at death)

63 years

nationality

Indian

Language

Sanskrit, Prakrit, English

Education

M.A.

(Lucknow – 1929), Ph.D.

(Lucknow-1941), D.Litt.

(Lucknow – 1946)

Business

Sanskrit and Literature, Cultural History, Numismatics, Museology and Art History.

duration

Modern period

Prize

Sahitya Akademi Award in Hindi for the prose commentary Padmavat Sanjivani in 1956

father's name

Vishnu Agarwal

mother's name

Sita Devi Agarwal
Vasudev Sharan Agrawal Jivan Parichay
Dr. Aggarwal was born in the year 1904 in Kheda village of Meerut district. His parents lived in Lucknow; Therefore, his childhood was spent in Lucknow and his primary education was also done here. He obtained M.A. from Kashi Hindu University and D.Litt. from Lucknow University on a thesis titled 'Panini Kaalin Bharat'.
Dr. Agarwal taught Pali, Sanskrit and English languages; By studying Indian culture and archeology in depth, gained fame as a scholar of high quality and adorned the post of Vice-Chairman and later Professor of the Department of Archeology and Ancient History at Kashi Hindu University. Dr. Aggarwal also worked on the post of Inspector in the Archaeological Museums of Lucknow and Mathura, on the post of Director in the Archaeological Department of the Central Government and also on the post of President and Professor in the National Museum of Delhi. This great scholar and litterateur of Indian culture and archeology passed away in the year 1967.
Don't Miss : Madhubala Biography
Vasudeva Sharan Agrawala
Dr. Aggarwal was a great scholar and researcher of Indian culture, archeology and ancient history. He had a burning desire to bring Indian culture to light from the point of view of scientific research; Therefore, he composed research essays of excellent quality. Most of his essays are related to ancient Indian history and culture.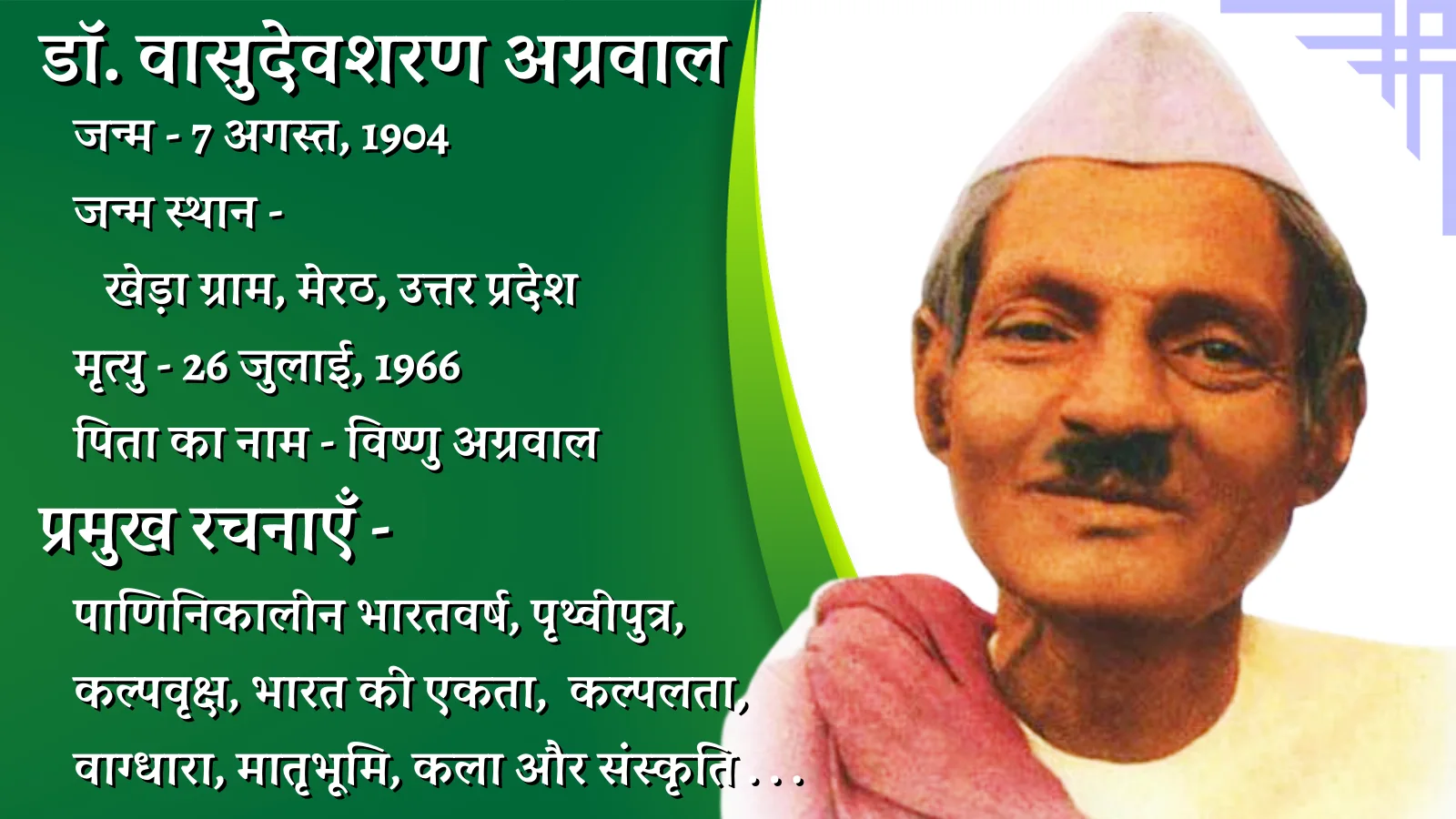 He inaugurated prehistoric, Vedic and mythological religion in his essays. Apart from the essay, he did the work of editing and text-research of many texts of Pali, Prakrit and Sanskrit. His commentary on Joyce's 'Padmavat' is considered the best. He presented the cultural study of Banabhatta's 'Harshacharita' and presented the intelligent character of ancient great men — Shri Krishna, Valmiki, Manu etc. from modern point of view. He will remain memorable in the history of literature for his originality, thoughtfulness and scholarship.
Works of Vasudev Sharan Agarwal
Dr. Vasudevsharan Agarwal did important work in the field of essay, research and editing. The details of his main compositions are as follows
Essay-collection — 'Prithiviputra', 'Kalpalata', 'Art and Culture', 'Kalpavriksha', 'Unity of India', 'Mata Bhoomi: Putrohan Prithivyah', 'Vagdhara' etc. are his famous essay-collections.
Research Management — 'Panini period India'.
Criticism – 'Sanjivani interpretation of Padmavat' and 'Cultural study of Harshacharit'.
Editing — of multiple texts of Pali, Prakrit and Sanskrit.
Also Read : Sajan Bhanwal
Vasudev Sharan Agarwal's place in literature
The essay-literature of Dr. Vasudevsharan Agarwal, a scholar of Indian culture and archeology, is very rich. No one can match him in the field of archeology and research. His contribution in the field of thought-oriented essays is absolutely unforgettable. Undoubtedly, he has an important place in literature.
biography of vasudev sharan agarwal pdf
For the convenience of the students, the biography of Vasudev Sharan Agarwal has also been given here in pdf form. Which all of you students can download very easily and with the help of that PDF you can read the biography of Vasudev Sharan Agarwal ji anytime. To download the PDF click on the button given below and download the PDF.
FAQ
Question — When was Vasudev Sharan Agarwal born?
Answer — Vasudev Sharan Agarwal was born on August 7, 1904.
Question — Where was Vasudev Sharan Agarwal born?
Answer –– Vasudev Sharan Agarwal was born in a village named Kheda in Meerut district of Uttar Pradesh.
Question — Name of parents of Vasudev Sharan Agarwal?
Answer — The name of the parents of Vasudev Sharan Agarwal has not been mentioned anywhere. But still it is believed that his father's name was Vishnu Agarwal and mother's name was Sita Devi Agarwal.
conclusion
Here in this article, we have understood the complete life introduction of Vasudevsharan Agarwal very well. Jockey is very helpful for the students preparing for board exams. Here we have understood many important questions related to his life so that you can understand his life very well. Along with this, we have also shared the life of Vasudev Sharan Agarwal in pdf form in this article, which you can easily download.
With this, we hope that you must have liked this biography and we hope that with the help of this article, you must have understood very well how to write Vasudev Sharan Agarwal's biography. If you have any question regarding this article or any other question, you can comment below.